There is nothing better than enjoying Christmas in Lapland (Finland), and things get even better when you get to know that the Christmas season there runs throughout the year. But if you want a snowy Christmas in Lapland, there is no better time to visit than from November to December. So, this TRAVELS and FLIGHTS guide will let you know what Christmas there feels like and what are spots you can travel to in Lapland on Christmas.
When does Christmas start in Lapland (Finland)?

As mentioned earlier, the best time to visit Lapland to enjoy Christmas is between November and December. All Christmas-related things start to emerge in November, and you can have snowy vibes also, which will make your tour even more interesting. And how can you miss the chance to visit "Santa Claus Village" in Rovaniemi, which is home to Santa Claus also, where the start to the season in Lapland is declared each year.
Let's take a look at some of the best places to travel to and stay this Christmas in Lapland.
Where can we stay at Christmas in Lapland?

There are many places you can visit or stay there to witness Christmas in Lapland. This guide is specifically for tourists who come all the way from other countries or cities to see the beauty of Finland at special occasions.
The Arctic Treehouse Hotel in Rovaniemi
While visiting Lapland, you may not restrict yourself from staying in this beautiful place in Rovaniemi due to its proximity to "Santa Park". It is really close to the airport and isn't far from Santa Claus village either. The design of this hotel is what makes you feel so special, this luxury treehouse is no less than a masterpiece.
• Northern Lights Ranch
Another addition to the most beautiful hotels in Lapland is this one which is very close to Levi. You get "Aurora Cabins" to stay, which provides you with an opportunity to witness the Northern Lights while sitting in your room. You also have the option of booking the cabin with a jacuzzi outside it. This is done to let visitors enjoy snowy weather also.
One more beautiful thing about this hotel is the food they offer.
The above-mentioned hotels are the top two most beautiful hotels in Lapland for visitors to stay. But when it comes to the places you must visit during your trip, we've enlisted a few below.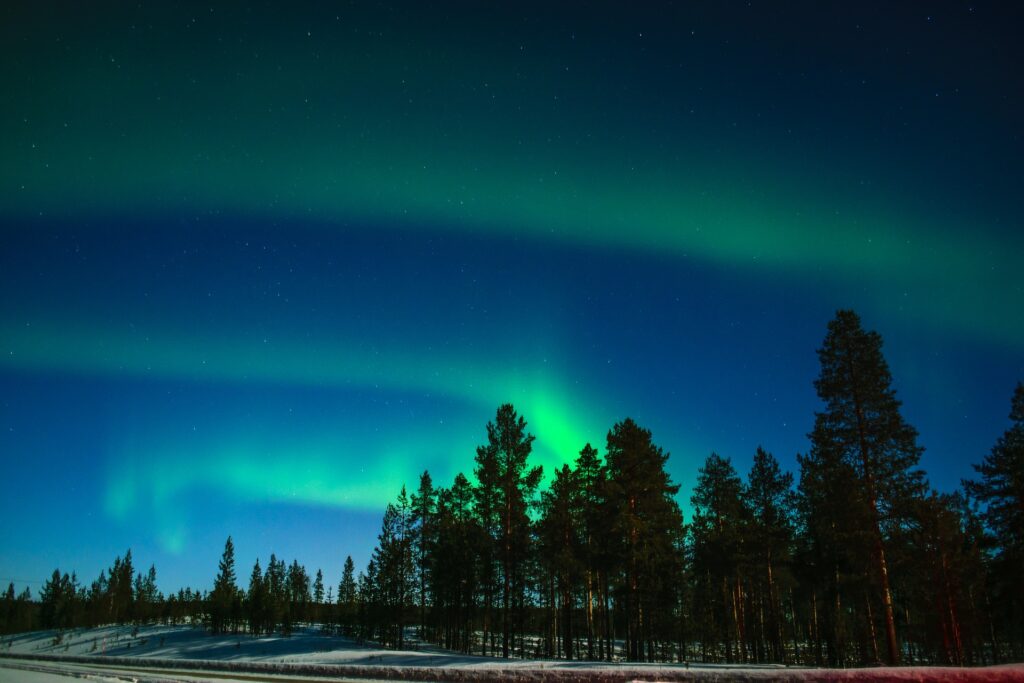 Where can we travel at Christmas?

Lapland's beauty increases even more when it is covered with snow and if it's Christmas season, that's even better. Here are some of the spots that you must travel at Christmas in Lapland.
• Rovaniemi (Finland)
Rovaniemi needs no introduction because of being home to Santa Claus and also for being one of the most beautiful hotspots for tourists. There are so many activities to do here which is it is preferred to visit it with families. Some important places in Rovaniemi include Santa Park, where you can meet Santa Claus also, and Santa Claus Village. You also have the option of posting your letter to Santa via the Santa Claus Post Office and you may expect to get a gift in return as well. But overall, this is the place the tourists visit the most.
• Levi (Finland)
Levi is another beautiful and Christmassy place in Lapland. It is more famous because of its access to skiing. So, if you like to ski, this is the place you were looking for. Apart from that, it has a beautiful ice hotel also which is made on the "Game of Thrones" theme. It will surely be cold, but you can stay there.
• PYHA (Finland)
Another beautiful place to take Christmas vibes is PYHA. There are two ski resorts available for people who are interested, and there is a national park as well. And since there is lesser light pollution, you can witness the Northern Lights also. All in all, it is no less than Rovaniemi in terms of beauty and Christmassy vibes.
• Salla (Finland)
Lapland is full of some beautiful and crowded places, and this is just an addition to that list. If you are a keen skier, visit the ski resort there, and don't forget to have a look at the reindeer farm either. You can also be a part of husky tours there. So, overall, you can do whatever you want while being in Lapland this Christmas.
Where is Finnish Lapland?

Finnish Lapland is located in Finland's northern part and has occupied nearly 30% of the total area of the country. However, the population exists in just 3% of it. The beauty of this area lets you forget all your worries, agreements, noises, and busy life. Rovaniemi is the biggest city in Finnish Lapland, and one of the must-see things here is Santa Claus Village. This city has a population of just above 50 thousand. You can explore various beautiful spots here and see Northern Lights.
The winter season in Finnish Lapland lasts for six months, and you can see the snow everywhere. The Northern lights seem to dance at night which gives a completely different vibe. Snowmobiling, husky tours, and snowshoeing are some of the most performed activities here in the winter. However, in the summer, the sun is out 24/7 to provide energy and warmth. Gold-panning, white-water rafting, and fly fishing are some of the activities to do in summers here.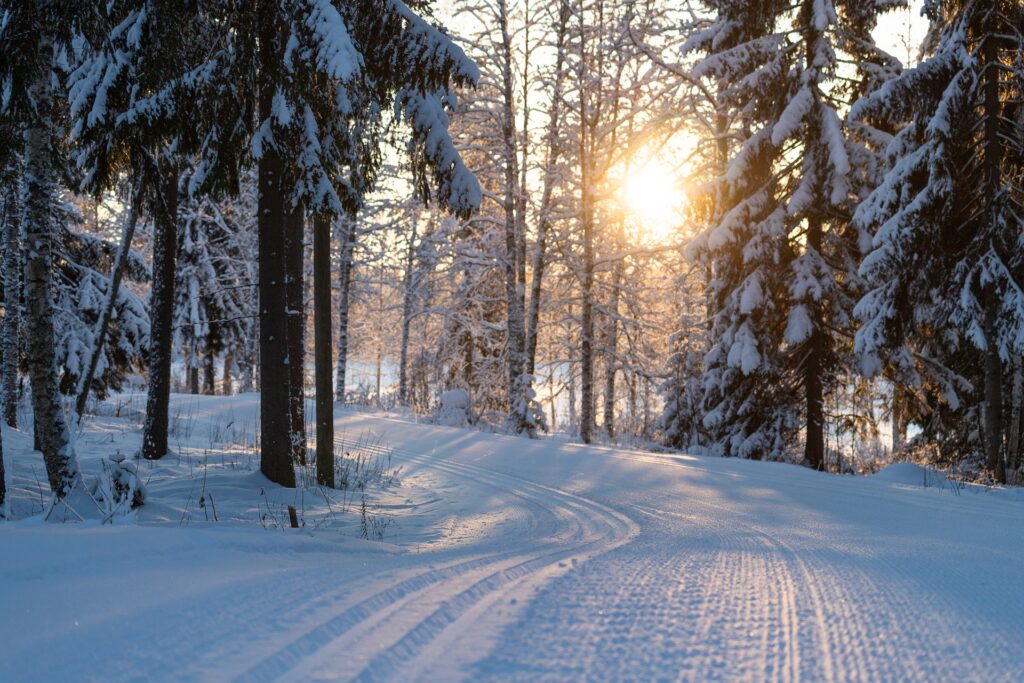 How to get to Lapland (Finland)? Lapland at Christmas.

Whenever people talk about going to Lapland, their main focus is Finnish Lapland. And the journey to this place starts in Helsinki. There are multiple ways of to get to Lapland, some of them are mentioned below:
• By Plane
The easiest and most enjoyable way of going to Finnish Lapland is by plane. You can choose any flight from Helsinki to Rovaniemi, Kittila, Kuusamo, or Ivalo. The biggest airport in the Lapland lies in Rovaniemi. Both Helsinki and Rovaniemi have an 800 km distance between them, and it takes no more than 2 hours to reach there by plane. Apart from that, if you want to travel to Ivalo and Inari, which are almost 1200 km away from Helsinki, you can take a flight to Ivalo and then take a bus to go to Inari. So, the flight will take less time than a train or bus which is why it is always a good option.
• By Train
If you are not in a hurry and want to explore every single part of Finland, there is no better way to travel than a train. It will take more time than a plane, but you will get to witness so many beautiful sceneries and the greenery all around. The most used and convenient train is Santa Claus Express which takes 12 hours and costs you almost 50 euros. Since it is a night train, you can sleep well on the sleeper beds also. Or if it's not a suitable option for you, try any of the 3 daytime trains which take almost 9 hours.
After Rovaniemi, if you want to go even further, the train will take you to Kemijarvi, which is another most beautiful place in Lapland's forests. But if you have to travel to Ivalo from Helsinki, the same train that goes to Rovaniemi will work for you, and then you can take a bus to Ivalo or Inari. So, the journey on the train is always adventurous, and when you get to see so many beautiful and snowy scenes, nothing can be better than that.
• By Car
Driving to Lapland from Helsinki is similar to when you go by bus; it takes almost 12-15 hours. It also depends on how far you want to go in Finnish Lapland. It is always hectic to drive for such a long time, and it is not recommended to choose this option in bad weather i.e. when there is snow all around.
Now, since you have got an idea of where the Finnish Lapland is and how you can get to Lapland, just choose the option that suits you the most.
Why is Santa Claus Village in Finnish Lapland so popular? Lapland holiday.

The best time to visit this village in Finnish Lapland is during the Christmas season. It has a lot of activities for you to offer which is why it is popular all over the world.
Here are some of the reasons why it is popular among tourists:
• You can meet Santa Claus Here!
It is truly magical to meet and greet Santa in his own hometown, and it is equally exciting for both kids and adults. This "Once in a Lifetime Opportunity" will stay with you forever out of your tour memories. Also, there is nothing better than seeing Santa spreading joy, love, and Christmas gifts to everyone.
• You can visit Reindeer Farm
Riding on a snowmobile and visiting a Reindeer Farm to spend some quality time are some of the activities to perform in Rovaniemi. Exploring wilderness after passing through winding tracks is always adventurous. This will also give you a chance to experience Santa's favorite ride.
• You can send a letter from Santa Calus Post Office
If you couldn't bring any of your loved ones on this trip, you can surprise them by sending a letter from Santa Claus Post Office. And the best part is that the elf helpers of Santa deliver it. If you visit the village in Spring or Summer, the elf helpers will ensure that your letters get delivered just before Christmas.
• You can see Ice Sculpture Exhibition
Witnessing this amazing exhibition is no less than a treat. It opens on December 20 every year, and you can have snow slides there apart from visiting snow carving school and the magical forest. You can also have a cup of coffee inside the snow castle.
There are multiple reasons to love Santa Claus Village, and the best of them have been mentioned above. Just take a flight to Lapland this Christmas in order to get to know about the true meaning of this event.
Top Christmas Attractions in Finnish Lapland
Finnish Lapland is full of Christmas attractions, but we've enlisted a few according to different cities. Let's take a look at them.
• Rovaniemi's Christmas Attractions
Santa Park is one of the best places and is a top tourist attraction also. It's mainly a toy factory in Rovaniemi where Santa's elves create gifts for children around the world. It's more of an attraction for kids because of the atmosphere created by elves there on Christmas. Apart from that, Santa Claus Village is another beautiful spot where tourists can explore gift shops and stalls on the eve of Christmas. It is equally attractive for both kids and families.
• Levi's Christmas Attractions
Levi isn't considered to be the best tourist attraction in Finland as compared to Rovaniemi, but it still has enough to offer to them. You can visit Reindeer Safaris here, and you are also allowed to visit Santa's cabin. You can meet and talk to Santa in person there. Riding through the forests is also something you can get in Levi.
• Inari's Christmas Attractions
Inari is most famous for the Northern Lights that tourists have become fans of. But visitors can also enjoy ice skating rinks, snow tubing, and toboggan run. And if you are a fan of skiing, you'll get to visit ski resorts also.
All these Christmas attractions make you feel like you must visit Finnish Lapland every year to witness all these and to enjoy them even more.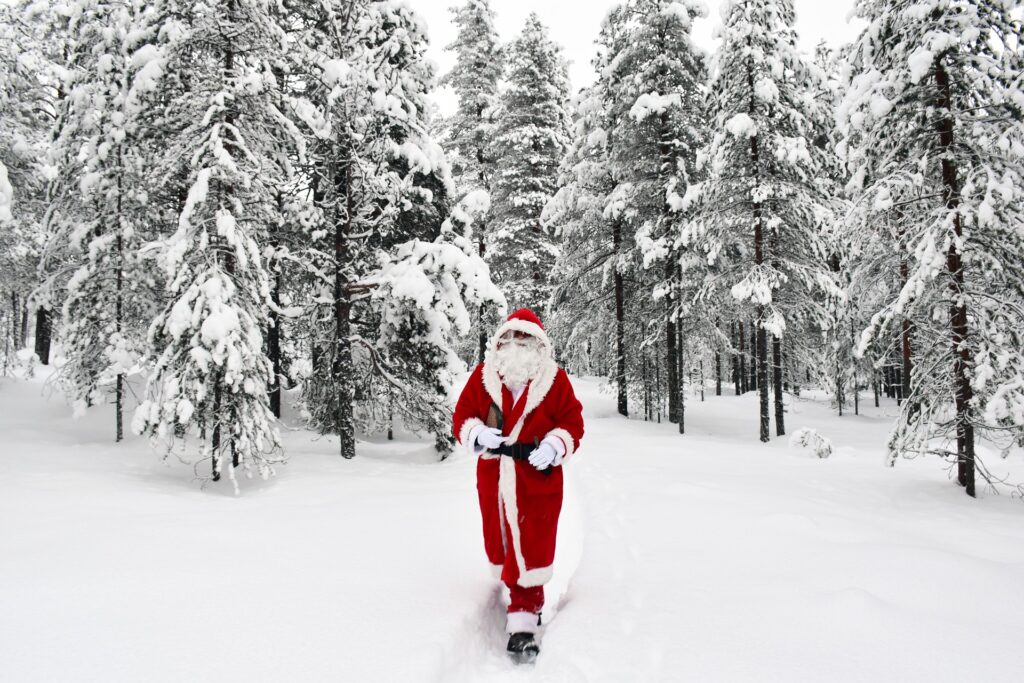 Visiting another country at Christmas might not be a good idea unless you are traveling to Lapland. You just need to plan a 4-5 days trip to witness the beauty of that place. It isn't a cheap trip for sure, but it is a once-in-a-lifetime opportunity to see the ski resorts and hotspots.
Book your tickets now and enjoy a memorable time with your family.
Booking Hotel … Find unbelievable deals on hotels… → Booking Hotel
Apartments, vacation rentals → Apartments
Resorts → Resorts
Villas → Villas
Bed & Breakfasts → Bed&Breakfasts
Guest houses → Guest houses
Africa Booking flight Christmas Cruises European River Cruises Finland Flights France Grenoble Italy Lake Como Lapland San Marino Santa Claus Shopping Tips Travels Vacation rentals