Outlets have become a haven for fashion enthusiasts seeking both style and savings. Outlets in Germany, with its rich fashion heritage and bustling retail landscape, is a veritable paradise for those in search of high-quality garments and accessories at discounted prices.
Outlets in Germany offer an exceptional shopping experience, showcasing an array of renowned brands and designer labels. From luxury fashion houses to sportswear giants, these stores house an extensive range of merchandise that appeals to diverse tastes and preferences. Whether you're in pursuit of timeless elegance, cutting-edge trends, or athletic gear that combines fashion and functionality, outlets in Germany have it all.
Exploring the Best Shopping Outlets in Germany: A Retail Paradise. Outlets in Germany: Top Destinations for Bargain Hunters.
Among the cities beckoning fashion-savvy travelers, Munich stands as a vibrant hub for outlet shopping. Ingolstadt Village, nestled just outside Munich, boasts a captivating assortment of luxury and designer brands that will leave you in awe. Berlin, a city renowned for its creative energy, houses the esteemed Designer Outlet Berlin and the iconic KaDeWe, promising an unforgettable shopping experience. Stuttgart, the automotive capital, is home to OUTLETCITY METZINGEN, offering a vast selection of premium brands. Meanwhile, Hamburg, with its maritime charm, boasts the Designer Outlet Hamburg and the prestigious Alsterhaus.
As you embark on this fashion pilgrimage, be prepared to discover hidden gems, coveted fashion pieces, and exceptional bargains. Immerse yourself in the stylish ambiance of Germany's outlet stores, where fashion dreams become reality. So, pack your bags, prepare your shopping list, and join us as we dive into the world of outlet shopping in Germany — a journey filled with fashion, flair, and fabulous finds.
Outlets in Germany – Day 1: Munich
Welcome to the vibrant city of Munich, where our outlet shopping adventure begins. Prepare to immerse yourself in a world of fashion and luxury as we explore the retail landscape of this captivating city.
Our first stop is Ingolstadt Village, located just outside Munich. As you step into this enchanting village, you'll be greeted by a collection of prestigious luxury and designer brands. From the iconic Burberry trench coats to the timeless elegance of Gucci and the exquisite craftsmanship of Prada, the options are simply tantalizing. Stroll along the charming streets, adorned with picturesque storefronts, and indulge in the pleasure of finding that perfect piece to elevate your wardrobe.
After a morning of shopping, treat yourself to a leisurely lunch at one of the onsite restaurants or cafes. Recharge your energy as you relish in the culinary delights offered within the village.
In the afternoon, we venture into the heart of Munich to visit Pasing Arcaden, a shopping center that caters to a wide range of tastes and preferences. Explore the various outlet stores, showcasing fashion, accessories, and even electronics. Discover hidden gems and take advantage of the incredible discounts available, allowing you to score fantastic deals on your favorite brands.
As the day draws to a close, take a moment to soak in the historical charm of Munich's city center. Explore its cobblestone streets, admire the architectural wonders such as the Frauenkirche, or relax in the tranquil beauty of the English Garden. Reflect on the treasures you've acquired during your first day of outlet shopping in Munich and prepare for the adventures that await in the days to come.
Tomorrow, we embark on a journey to Berlin, where a whole new world of fashion and outlet shopping awaits. Stay tuned for an exciting day of discoveries and style!
Outlets in Germany – Day 2: Berlin
Welcome to the vibrant and cosmopolitan city of Berlin, where a day filled with outlet shopping and fashion awaits. Get ready to dive into the bustling streets and explore the diverse retail offerings this city has to offer.
Our first destination is Designer Outlet Berlin, located in Wustermark, just a short distance from the city center. As you enter this shopping haven, you'll be greeted by a plethora of renowned brands and fashion-forward stores. From the iconic swoosh of Nike to the classic designs of Adidas and the timeless elegance of Tommy Hilfiger, this outlet is a paradise for fashion enthusiasts. Lose yourself in the racks of clothing, accessories, and footwear, and uncover incredible deals on your favorite brands.
After a morning of shopping, indulge in a quick bite at one of the onsite dining options within the shopping center. Replenish your energy as you reflect on your fashion finds.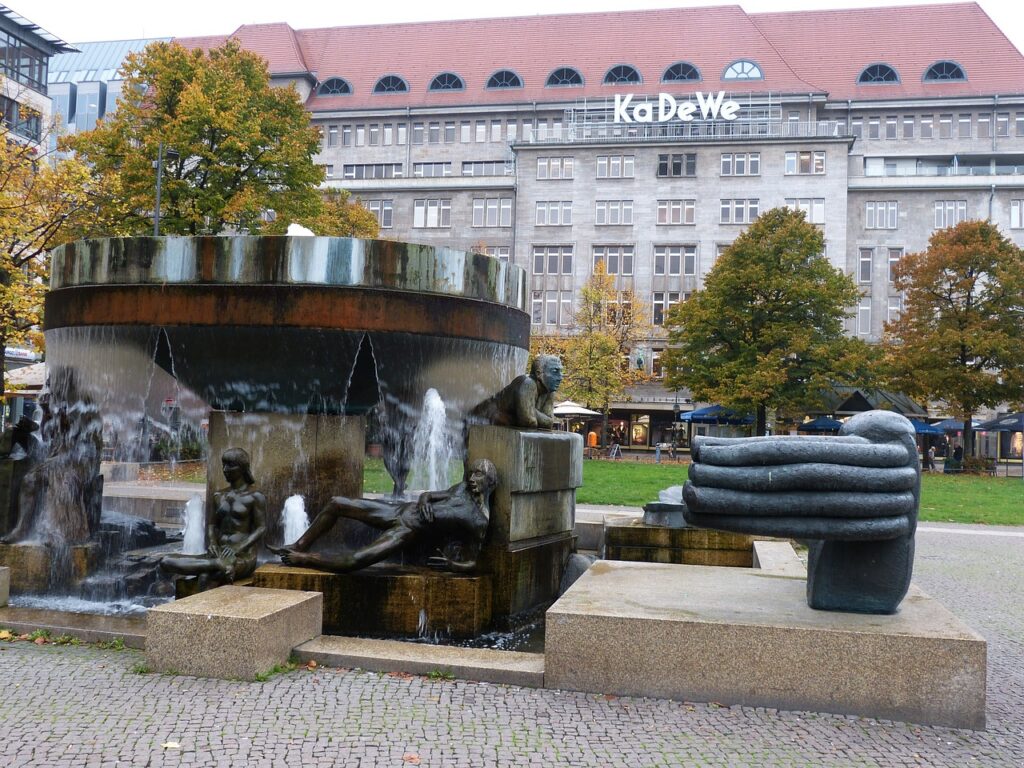 In the afternoon, venture into the heart of Berlin to visit KaDeWe, one of the city's most iconic department stores. Known for its luxury offerings, KaDeWe is a treasure trove of high-end fashion, beauty, and lifestyle brands. Immerse yourself in the opulent ambiance as you browse through the latest collections and discover exclusive pieces.
Adjacent to KaDeWe is the "Bikini Berlin" concept mall, offering a unique mix of high-end boutiques and concept stores. Take some time to explore this vibrant space, where fashion, design, and creativity converge.
As the day comes to a close, take a moment to absorb the energetic vibe of Berlin. Wander through its diverse neighborhoods, visit historical landmarks like the Brandenburg Gate, or experience the city's vibrant nightlife. Reflect on the fashionable finds you've acquired during your day in Berlin, and get ready to continue your outlet shopping adventure in Stuttgart tomorrow.
Stay tuned for Day 3 (Outlets in Germany), where premium brands and exceptional deals await in the automotive capital of Germany!