Portugal is an enchanting destination that entices travelers with its rich history, stunning landscapes, and vibrant culture. Among the various ways to explore the country, a river cruise stands out as an exceptional choice.
Portugal river cruises provide a unique and immersive experience as you leisurely journey along the scenic waterways, uncovering the nation's hidden gems. Let's delve into the reasons why Portugal river cruises are the perfect way to discover the country's treasures.
Captivating Douro River: Embarking on a Portugal river cruise often means traversing the magnificent Douro River, which gracefully winds its way through the picturesque Douro Valley. This UNESCO World Heritage-listed region offers breathtaking views of terraced vineyards, ancient villages, and charming hillside towns. As you sail along, you'll have the pleasure of indulging in panoramic vistas and visiting vineyards that produce the world-renowned Port wine, allowing you to savor and sample these delightful wines.
Cultural Delights: Portugal is a country steeped in history and culture, and a river cruise immerses you in its rich heritage. You'll have the opportunity to explore historic cities such as Porto, celebrated for its impressive bridges and port wine cellars. Another notable stop is the medieval town of Lamego, home to the stunning Sanctuary of Our Lady of Remedies. Knowledgeable guides will accompany you, providing insightful commentary and ensuring a truly immersive experience as you delve into Portugal's fascinating past.
Charming Villages: The Portugal river cruise experience encompasses visits to charming villages that appear frozen in time. These idyllic villages, scattered along the riverbanks, offer a glimpse into traditional Portuguese life. From the quaint village of Pinhão, adorned with colorful azulejo tiles at its train station, to the historic village of Castelo Rodrigo, boasting ancient ruins and panoramic views, each stop along your river cruise unveils the unique character and beauty of Portugal's rural communities.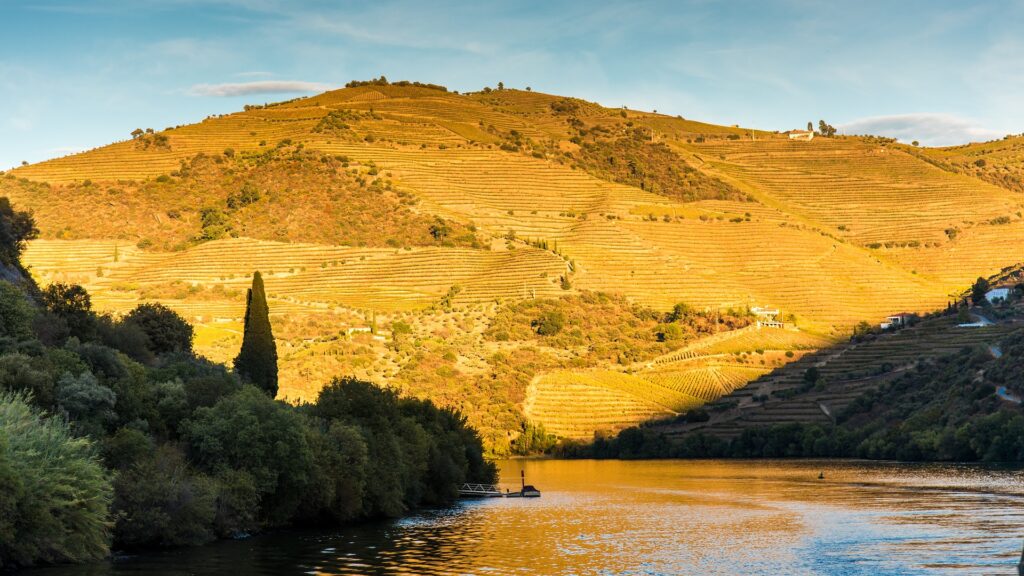 Gastronomic Delights: Portugal is a culinary paradise, and a river cruise allows you to relish in the country's gastronomic delights. Indulge in freshly caught seafood, hearty stews, and delectable pastries, accompanied by regional specialties like bacalhau (salted codfish) and pastéis de nata (custard tarts). Your cruise ship will offer exquisite onboard meals, and you'll also have opportunities to explore local markets and dine at authentic restaurants, immersing yourself in Portugal's vibrant food scene.
Unforgettable Landscapes: Portugal's landscapes are diverse and awe-inspiring, ranging from the lush vineyards of the Douro Valley to the dramatic cliffs along the coastline. A river cruise presents a unique perspective to admire these natural wonders. Marvel at the rugged beauty of the Douro Valley, with its terraced vineyards cascading down the hillsides. Cruise along the serene Guadiana River, bordered by rolling hills and pristine forests. Each day of your river cruise will unveil a new and unforgettable vista, ensuring an extraordinary journey through Portugal's breathtaking landscapes.
Portugal river cruises blend history, culture, and natural beauty into a captivating experience. Whether you're a wine enthusiast, a history buff, or simply seeking a relaxing and scenic getaway, a river cruise through Portugal will exceed your expectations. Embark on this enchanting journey and create cherished memories that will last a lifetime.