Review 2022: Merry Christmas 2022 and New Year 22/23 in Milan
Are you planning on visiting Milano for the Christmas holidays?
Perfect! We have penned down this guide to help you explore the things you can do in Milano every Christmas.
Why Choose Milano For Your Christmas Holidays

Milan, or Milano, is a wonderful city with a unique combination of history, culture, and modernity, making it an ideal Christmas vacation destination. Milan has many attractive Christmas markets where you can browse holiday-themed vendors, try traditional Italian delicacies, and watch festive entertainment.
Milan also happens to be a shopping hotspot featuring some of the world's top boutiques, department stores, and designer stores. Whether you're seeking luxury products, handcrafted crafts, or presents for loved ones, Milan is sure to have what you're looking for.
The city is known for its rich cultural legacy, including world-renowned art pieces and breathtaking examples of Renaissance and Baroque architecture. There is no lack of cultural things to visit in the city, from the iconic Cathedral of Milan to Leonardo da Vinci's famed Last Supper artwork.
Last but not least, Milan is famed for its cuisine, which ranges from substantial risotto to rich and creamy gelato. Whether you dine at a Michelin-starred restaurant or a tiny trattoria, you'll be treated to some of the finest Italian food you've ever tasted.
5 Things To Do In Milano For Your Christmas Holidays

Whatever your hobbies or budget, Milan will have something to offer you over your Christmas vacation. Milan is an ideal vacation destination due to its rich cultural history, festive atmosphere, and world-class cuisine and shopping.

Here are some of the best things to do in Milan during your Christmas holidays:
1. Visiting the Christmas Trees in Various Places
First and foremost, you can visit some of the best Christmas Tree places in the following places: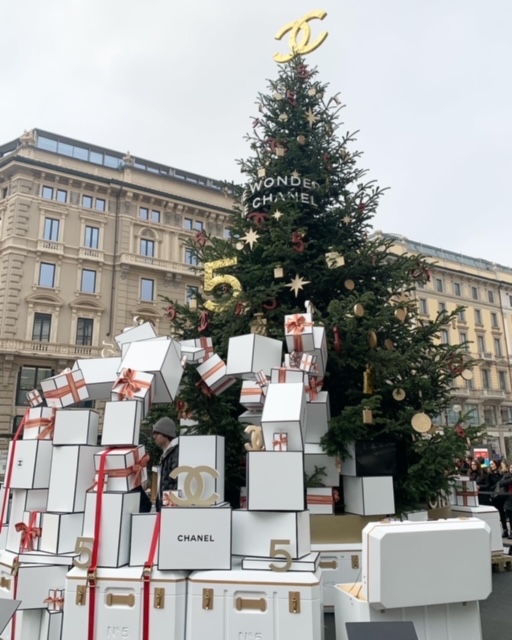 – Christmas Tree in Galleria Vittorio
The Galleria Vittorio Emanuele II in Milan is one of the city's most well-known buildings, and its Christmas tree is a renowned holiday attraction. The tree is usually a big, elaborate structure lavishly decked with lights and decorations.
– Christmas Trees on the street in Milan with different promotions like CHANEL or DIOR
These Christmas trees are often displayed outside on the street in Milan and act as the promotional tools.
2. Go Shopping in Christmas Village
In Milan, you can go shopping in the Christmas Village. During the holiday season, the Christmas Village, also known as the "Mercatino di Natale," is a popular holiday market in several squares and streets across the city. The market includes a variety of vendors offering homemade presents, food, beverages, and various holiday decorations and activities.
Shopping in Milan's Christmas Village is a unique and fun way to experience the city's holiday season. It is a popular attraction for residents and visitors because of its pleasant ambiance, wonderful scenery, and festive booths.
3. Treat Yourself to a Christmas Concert
Here are some of the greatest spots in Milan to see Christmas concerts:
– Teatro alla Scala
Teatro alla Scala, one of the world's most renowned opera theaters, is a must-see for anybody who enjoys classical music.
During the holiday season, the theater usually organizes festive concerts featuring some of the world's most talented musicians and entertainers.
– Basilica di Santa Maria delle Grazie
This medieval cathedral houses "The Last Supper," one of Leonardo da Vinci's most renowned paintings. The church often offers beautiful and touching Christmas performances with choral and instrumental music over the holiday season.
– Cathedral of Milan
Milan's beautiful Cathedral, often known as the "Duomo," is one of the city's most recognizable attractions. During the Christmas season, the Cathedral often offers a series of festive performances with choirs and musical groups from all around Italy.
5. Paying Visits To Historic Places
When it comes to visiting historic places on your visit to Milano during the Christmas holidays, the following are some good options: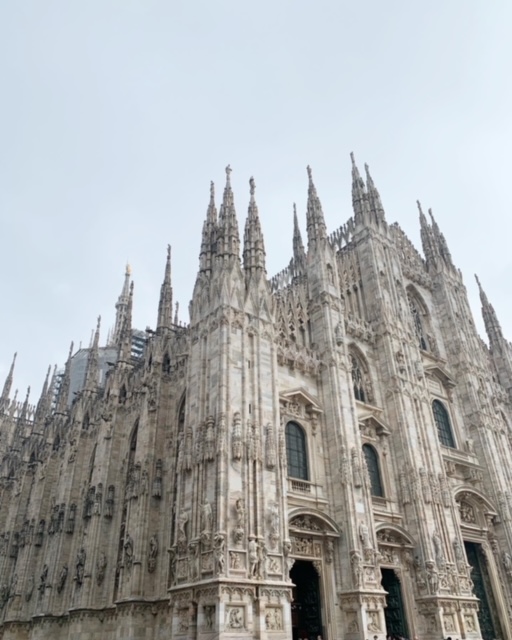 – Duomo Milano
The Duomo Milano, one of Milan's most well-known Christmas markets, can be found next to Galleria Vittorio Emanuele, stretching for a few meters down the public route and into the Piazza behind the Duomo.
This quaint Christmas market is lined with wooden huts that offer seasonal treats (including some well-known Milanese specialties like panettone) and other wintertime favorites from Italy, such as smoking cold cuts, jellies, bakery goods, and chocolates. Anything you can think of, from roasted chestnuts to mulled wine to gingerbread, is available.
– Sforza Castle
The Sforza Castle is a well-known castle and museum complex in Milan, Italy. The castle was once the home of the Duke of Milan and was erected in the 15th century.
The Sforza Castle is now one of Milan's most prominent cultural institutions, housing several museums and exhibits highlighting the city's rich creative, and cultural past.
6. Shopping in Milan
Milan is well-known for its italian high-end fashion and luxury shopping, and there are several wonderful boutiques and specialized stores to discover across the city. Here are a handful of Milan's greatest retail areas: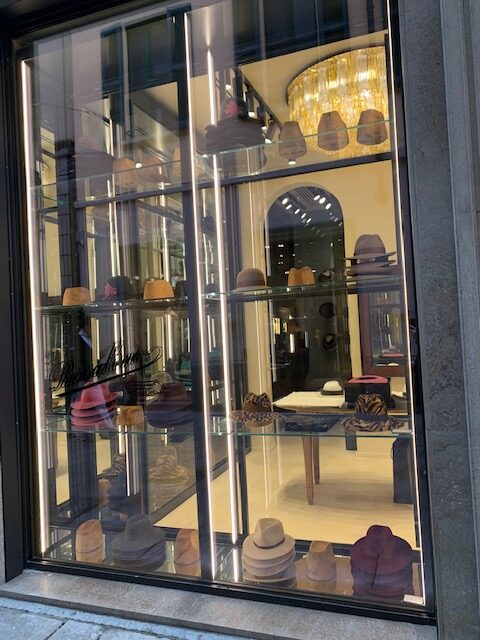 – Acca Kappa Boutique
Acca Kappa is a well-known Italian company recognized for producing high-quality grooming and personal care products. Their Milan store sells various goods, including soaps, shampoos, scents, and other items manufactured with natural ingredients and excellent artistry.
– Borsalino Boutique
Borsalino is a world-renowned italian hat-making firm, and their Milan store is the ideal spot to uncover the newest headgear designs and trends.
Borsalino provides a broad choice of hats crafted from the best materials and tailored to fit any occasion, from fedoras to flat caps.
– Lorenzo Villoresi perfumes
Lorenzo Villoresi is a well-known Italian perfumer, and his Milan store sells exquisite perfumes, candles, and personal care items.
Lorenzo Villoresi's products are ideal for treating yourself or a loved one, emphasizing natural ingredients and refined smells.
– Acqua di Genova (Genoa) perfumes
Acqua di Genova is a high-end Italian perfumer that sells a variety of luxury scents and grooming items.
Their Milan shop is the ideal location to get the most recent smells and traditional and timeless perfumes, all produced with the finest ingredients and expertise.
– Galleria Massimo Meda in Milano
Massimo Meda was born in 1959 near Milan. An unique technique invented by Massimo Meda is three-dimensionalism, He creates three-dimensional paintings. Visit the gallery: https://www.massimomeda.it
7. Hotels Accommodations
There are many hotel accommodations to choose from when you're in Milan for your Christmas vacation. The Glam Hotel in Milan is a luxury hotel in the city's core, providing visitors with a refined and elegant stay in one of Italy's most trendy cities.
Glam Hotel provides a trendy and beautiful stay with its sleek, contemporary style and sumptuous furniture. The hotel is meant to dazzle and give visitors a genuinely unforgettable experience, from its elegant rooms and suites to its gorgeous communal areas.
All the rooms at Glam Hotel include contemporary amenities and features, such as comfy beds, flat-screen TVs, minibars, and more, making it the ideal option for travelers who value comfort and convenience on travels.
8. Best Cuisines to Try in Milan
Milan is famed for its rich culinary tradition, providing tourists with various delectable meals and tastes. Here are some of the finest cuisines to sample while in Milan.
Milanese cuisine combines traditional regional dishes with tastes and ingredients from other parts of Italy and beyond. Milan's eclectic culinary scene has something for everyone, from substantial stews and pasta meals to fresh seafood and locally produced veggies.
– Risotto allo Zafferano
This creamy, saffron-infused rice dish is a Milanese institution and a must-try for every visitor to the city. This recipe is a typical comfort food made with high-quality ingredients that are both fulfilling and tasty.
– Cotoletta alla Milanese
Another traditional Milanese dish is a breaded, fried veal cutlet served with lemon and a side of potatoes or greens. It is a traditional Milanese meal and a must-try for everyone who likes meat dishes.
9. What Things to Take on a Christmas Trip to Milan?
When visiting Milan for the holidays, it is essential to be prepared for the weather, cultural differences, and local traditions. Here are a few items to think about bringing for your trip:
– Comfortable shoes – Milan is a walking city, so bring a pair of comfy shoes to wear while visiting the city and its landmarks.
– Umbrella or Rain Gear – While rain is unusual during the winter months, it is always a good idea to be prepared in case of severe weather.
– Camera – There will be many opportunities to photograph your trip with its gorgeous architecture, great cuisine, and Christmas celebrations, so bring your camera.
Milan is a great Christmas vacation location, with everything from shopping at legendary stores like Acca Kappa and Borsalino to sampling classic Milanese dishes like Risotto allo Zafferano and Cotoletta alla Milanese. The city also offers numerous cultural things to visit, such as the majestic Sforza Castle and the city's breathtaking Christmas displays.
Milan offers something for everyone this Christmas season, whether searching for a festive performance, nice hotel stays at Glam Hotel, or just a city packed with seasonal pleasure. Pack warm clothes, comfy shoes, a camera, and other necessities, and prepare for a wonderful Christmas in this lovely city.
Africa Booking flight Christmas Cruises European River Cruises Finland Flights France Grenoble Italy Lake Como Lapland San Marino Santa Claus Shopping Tips Travels Vacation rentals