Review: Chocolate Workshop by Cailler in Broc, Switzerland
If you're a chocolate lover, a visit to the Cailler Chocolate Manufacture in Broc, Switzerland, is like a dream come true. Nestled in the picturesque Swiss Alps, Cailler is one of the oldest and most renowned chocolate makers in the world, dating back to 1819. The Cailler Chocolate Manufacture offers an array of delightful experiences, including chocolate workshops that allow you to get hands-on with the art of chocolate making. In this blog post, I'll take you on a journey through my unforgettable experience at the Cailler Chocolate workshop, focusing on the creation of my very own pralines Clara.
About Cailler Chocolate Manufacture
Cailler's story is one that blends tradition, innovation, and a deep love for chocolate. With nearly two centuries of chocolate-making expertise, Cailler continues to craft exceptional chocolates that captivate the taste buds of people worldwide. The factory tour at Cailler is a fantastic opportunity to learn about the rich history of chocolate production and to witness the meticulous process of creating their delectable treats.
About Chocolate Workshops by Cailler
One of the highlights of visiting Cailler is the chance to participate in their chocolate workshops. These workshops offer visitors a hands-on experience in crafting various chocolate delicacies. During my visit, I had the pleasure of taking part in the "My Pralines Clara" workshop, where I got to create my own pralines from scratch under the guidance of a skilled chocolatier, Antonio.
My Pralines Clara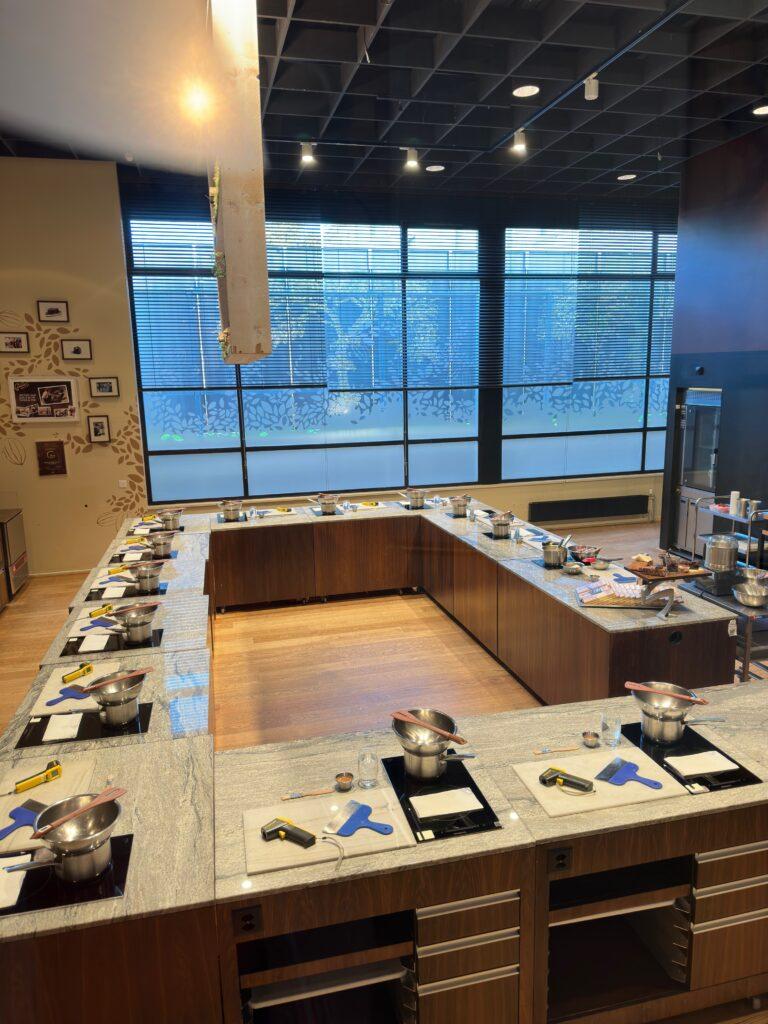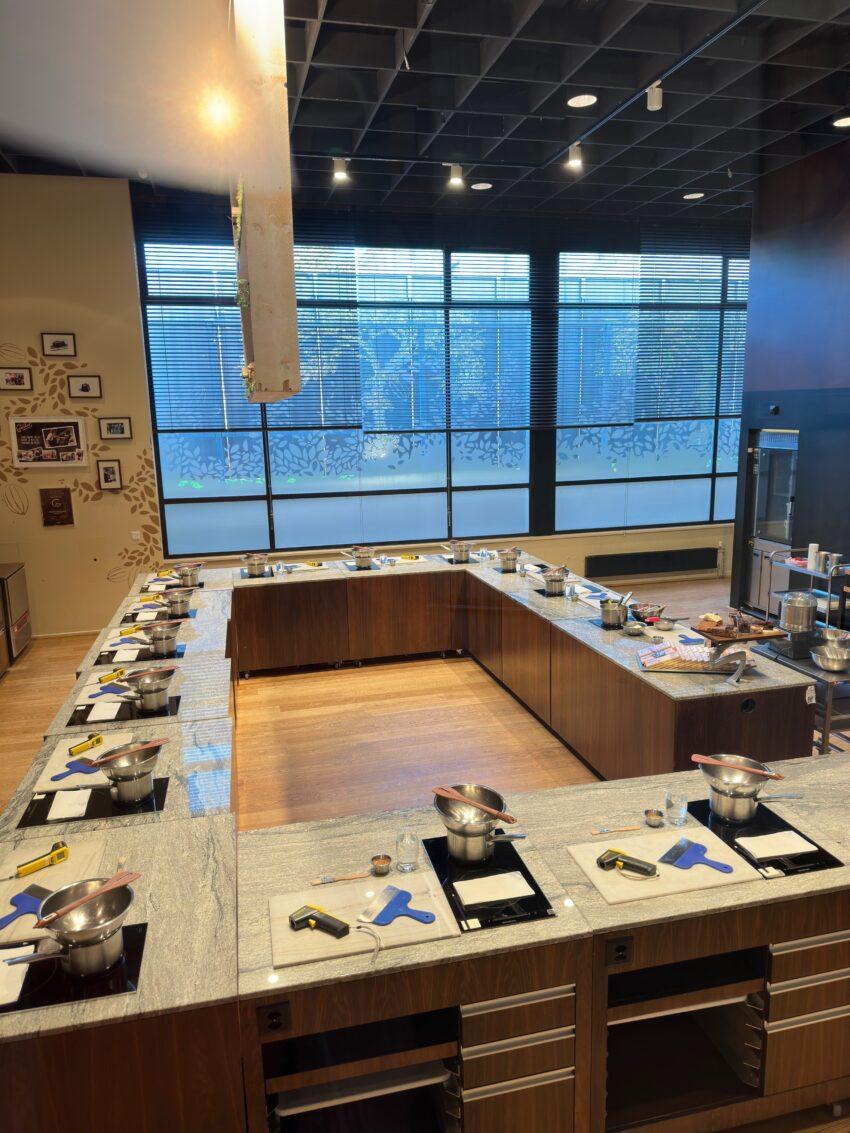 The "My Pralines Clara" workshop at Cailler is a delightful experience that immerses you in the world of praline-making. Pralines are a beloved chocolate treat known for their creamy, ganache-filled centers and a thin chocolate shell. Here's how my workshop experience unfolded:
We were a diverse group of 13 chocolate enthusiasts gathered in the kitchen, ready to embark on our praline-making adventure. What made this workshop truly unique was that it was conducted in three languages: French, Italian, and German, ensuring that everyone could follow along comfortably.
Antonio, our chocolatier instructor, started by demonstrating how to make the velvety ganache that would become the heart of our pralines. The ganache is a blend of high-quality chocolate and "jus de poires concentré" that give pralines their distinct taste and texture.
Next, Antonio introduced us to the molds used for shaping the pralines. With the molds in hand, we eagerly moved on to the hands-on part of the workshop.
Antonio patiently guided us through each step of the praline-making process. From filling the molds with the ganache to gently tapping them to remove air bubbles, precision was key. We then coated our ganache-filled molds with a thin layer of exquisite Cailler chocolate, creating a beautiful shell for our pralines.
As we waited for our pralines to set, Antonio shared fascinating insights into the world of chocolate, including the sourcing of cocoa beans, the importance of temperature control in chocolate making, and the art of flavor pairing.
After a brief period of anticipation, we carefully removed our pralines from their molds, revealing our individual works of chocolate art. The sense of accomplishment and pride in creating something so delicious from scratch was truly remarkable.
The entire workshop lasted approximately three hours, during which time we not only learned the secrets of praline-making but also developed a deep appreciation for the craftsmanship that goes into creating fine chocolates.
Review of Chocolate Workshop by Cailler: My Pralines Clara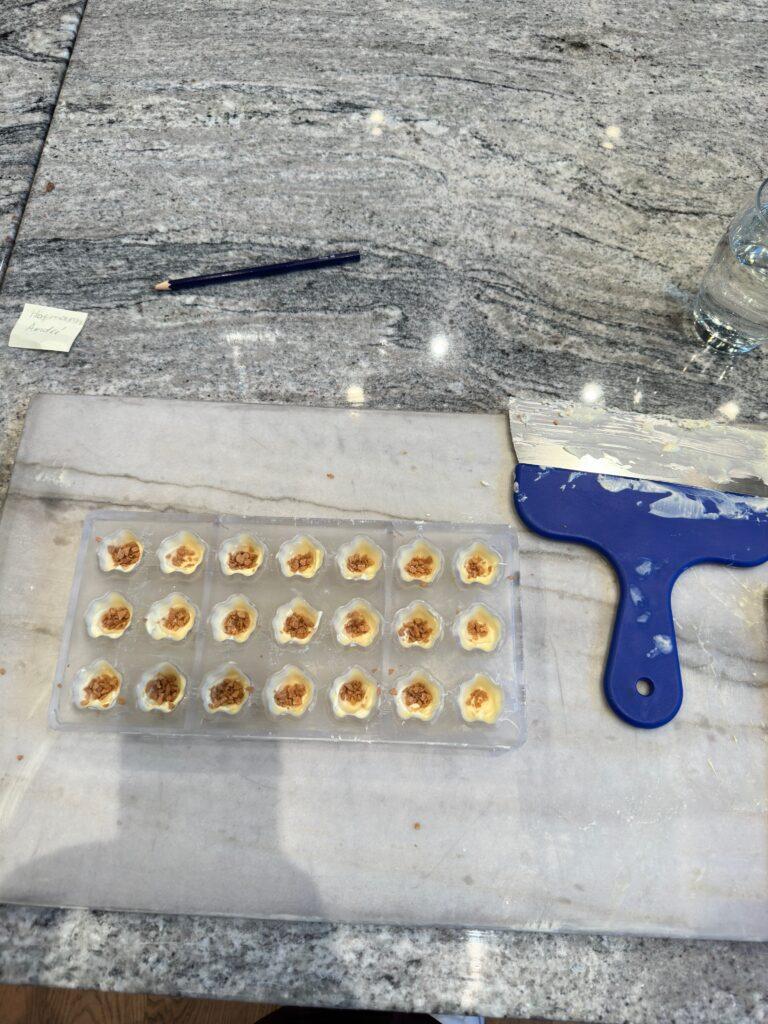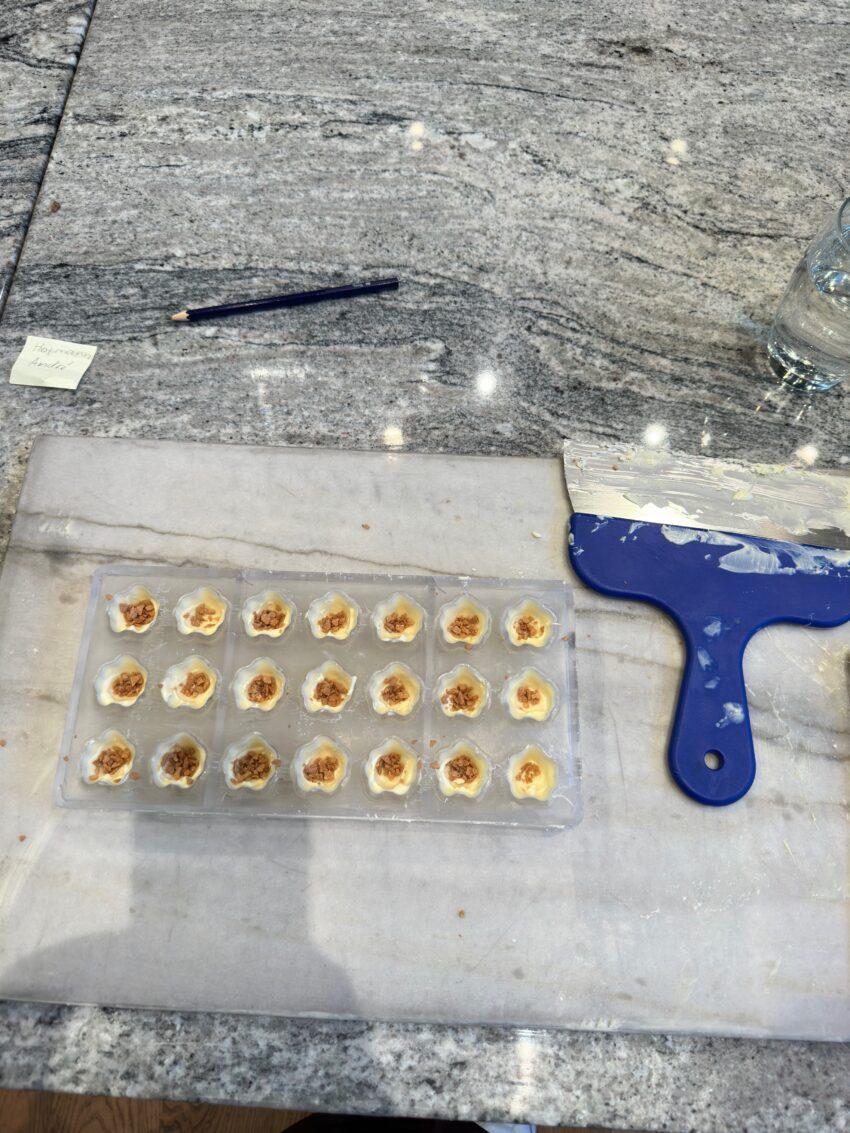 Participating in the Chocolate Workshop by Cailler "My Pralines Clara" workshop at the Cailler Chocolate Manufacture was an experience that exceeded my expectations. Here are some key takeaways:
Chocolate Workshop by Cailler in Broc, Switzerland / Educational and Multilingual: The workshop was not only enjoyable but also highly educational. Conducting the workshop in three languages ensured that language was not a barrier to learning and participating.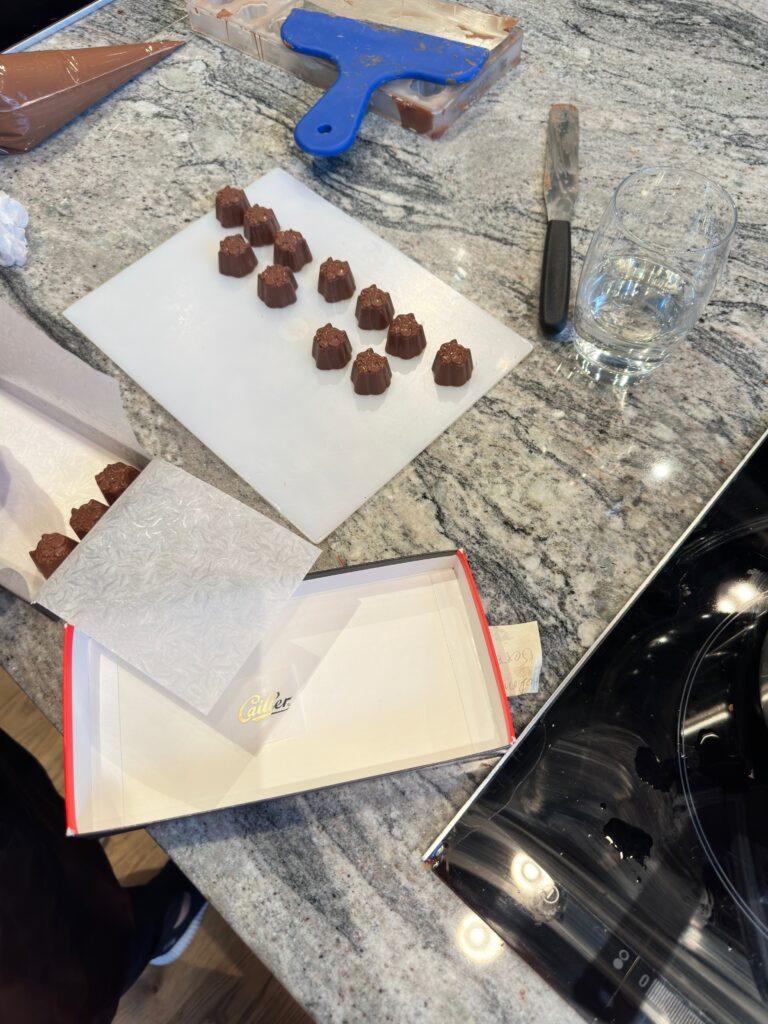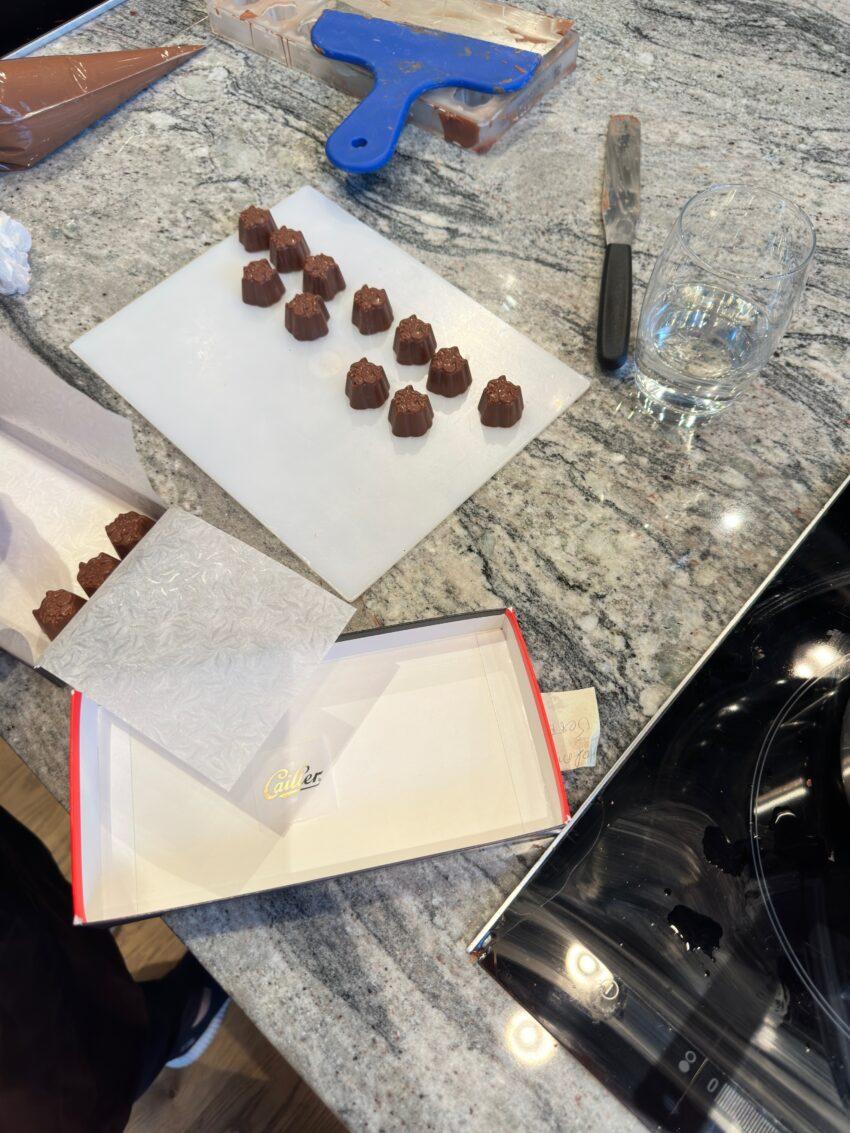 (c) Photo: https://travels.flights
Chocolate Workshop by Cailler in Broc, Switzerland / Expert Guidance: Antonio, our chocolatier instructor, was a true expert in his field. His patience and expertise made the entire process easy to follow, even for those of us with no prior chocolate-making experience.
Chocolate Workshop by Cailler in Broc, Switzerland / Hands-On Experience: Getting hands-on with the chocolate-making process was the highlight of the workshop. It allowed us to appreciate the skill and precision required to create pralines of the highest quality.
Chocolate Workshop by Cailler in Broc, Switzerland / Delicious Results: The pralines we crafted were nothing short of heavenly. The combination of Cailler's premium chocolate and our own creative touch resulted in delectable treats that we were proud to call our own.
In conclusion, the Chocolate Workshop by Cailler "My Pralines Clara" workshop at the Cailler Chocolate Manufacture is a must-do experience for chocolate lovers and anyone interested in the art of chocolate making. It's an opportunity to indulge in your passion for chocolate, learn from the best, and create your very own sweet masterpiece. If you find yourself in Switzerland, make sure to put Cailler on your itinerary for an unforgettable chocolate adventure.